The Language Institute currently has 4 online courses to help you improve your professional communication in English for successful business interactions. Each course focuses on a particular area of communication in English and consist of 4-5 modules. Each module should take you no more than a week to complete.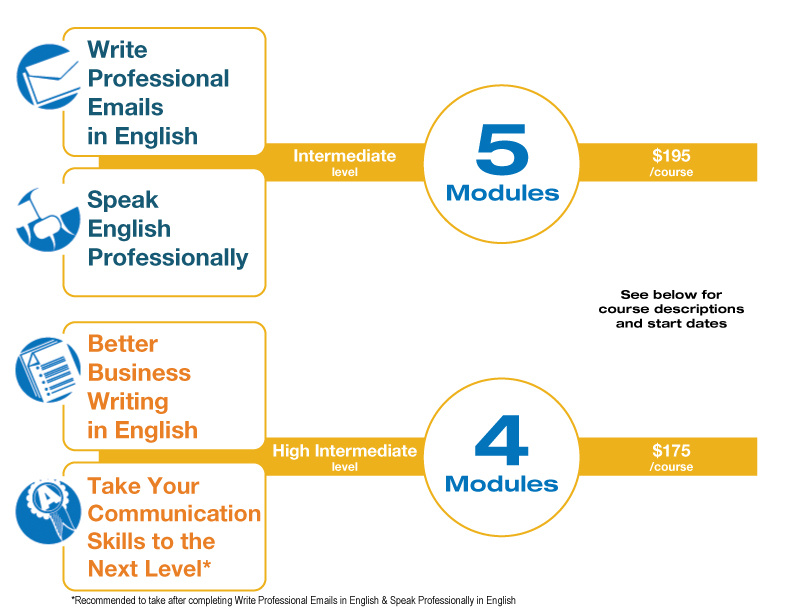 Are you ready to sign up? See below for course start dates and more details about each of courses.
APPLY NOW
Click the yellow boxes below to learn more about each course and apply.
Speak English Professionally Mobile App
The Georgia Tech Language Institute and Center for 21st Century Universities (C21U) have collaborated with Onlea to design a language-learning app that is available in the Apple App Store and Google Play. The app is called "Speak English Professionally" and provides a mobile-based course that non-native English speakers can take to boost their English speaking skills. This course is based on Georgia Tech's preexisting Coursera MOOC.
Life is busy, and many people don't have time to attend English courses in a classroom. Georgia Tech now provides the option to take a "Speak English Professionally" course on the go through our new mobile app.
The "Speak English Professionally" app guides users through English lessons via educational videos, quizzes, and other interactive activities.
The app is free to all users!
MOOCs on Coursera
The Language Institute also offers MOOCs (Massive Open Online Courses) through our partner Coursera. Visit Coursera to find out more.