Below are some of the activities available to Language Institute students!
Culture Fest
The Culture Fest and the International Education week are both sponsored by the Office of International Education. These events are opportunities for the Language Institute students to engage the Georgia Tech community and share about their culture and country. Students express their culture by wearing traditional clothes and by sharing conversational basics and idioms from their native language.
Friends Beyond Borders/Language Cafe
Exploring culture through conversations, The Language Cafe creates an environment where people gain deeper cross cultural understanding through multilingual conversations. It provides an opportunity for Georgia Tech grad and undergraduates, faculty, staff and alumni and Language Institute students, to socialize and practice speaking a second language. Please contact Adria Motiwalla for more information.
The One Project
The One Project is a service club made up of students at the Language Institute. Its purpose is to serve both locally and globally and fulfills this purpose through projects as diverse as collecting items to be donated to local homeless people to supporting global efforts to increase water access.
Conversation Partners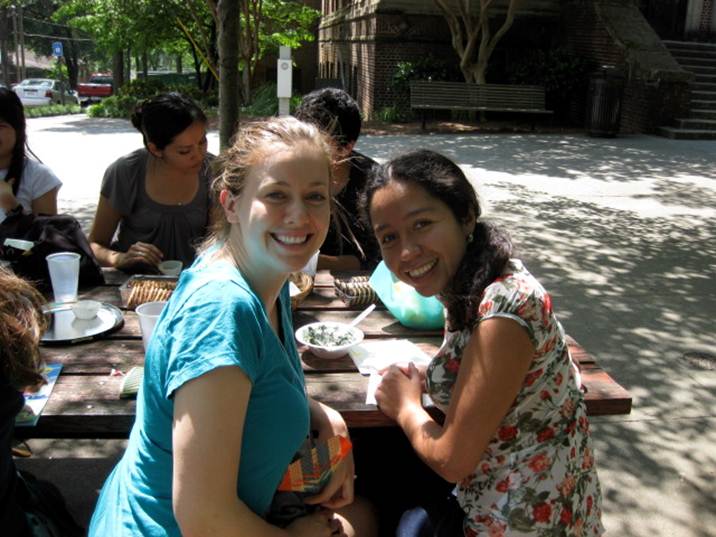 The Conversation Partner program provides a great opportunity to practice speaking the language you are studying and to learn greetings and important phrases from other countries. It's an online system that serves as a tool to meet somebody on campus and develop a friendship, with the goal of hopefully meeting a speaker with whom you can do a language exchange. The Language Cafe creates a comfortable environment for you to meet your conversation partner and share your campus and career experiences while offering a great place to begin your global journey.