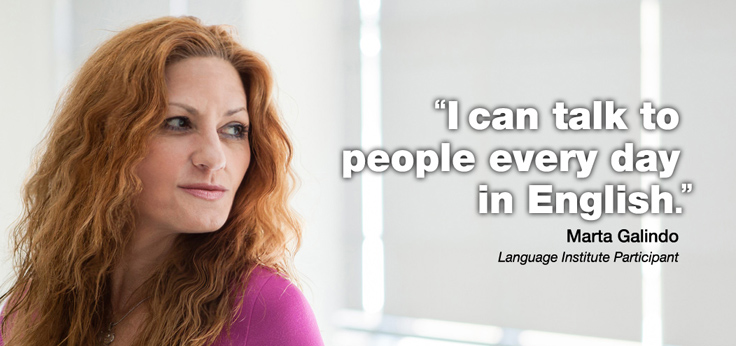 Marta Galindo is a Georgia Tech Language Institute enthusiast. After completing the advanced course in English, she decided to take it three more times.
"I couldn't find a good moment to leave," she said. "I was learning a lot, and it's hard to find a program in the U.S. that doesn't repeat the same concepts and activities in each class."
Established in 1958, the Language Institute helps international students, professionals and visitors improve their English proficiency for jobs, academics or social reasons. The Language Institute – part of Georgia Tech Professional Education – offers short courses, summer classes and semester-long programs in English as a Second Language.
As part of the Intensive English program, the Language Institute offers seven levels of proficiency, from lower elementary to upper advanced. Galindo started at the 300 level — lower intermediate — and conquered the 700 level four times.
"When I started, it was hard to translate, but I was improving every day," she said. "I completed each class, and when I finished the last one, I knew I wanted to continue."
The Language Institute is a member of the Consortium of University and College Intensive English Programs and the American Association of Intensive English Programs, which are two organizations that promote standards of excellence in English as a Second Language training in the U.S.
The Intensive English programs feature 20 hours of core classes per week plus elective courses options, experienced faculty with advanced degrees, individual attention, access to individual academic counseling and advising, and assistance for on-campus and off-campus housing.
"The teachers are personable and excellent," she said. "Even though I repeated the advanced class, they always introduced new concepts, vocabulary and grammar."
When Galindo first came to the U.S. from Spain, her company offered to pay for English courses. Though her job didn't require English skills, she knew that English proficiency would be a huge benefit while working in the U.S. After researching several programs, she decided Georgia Tech was the best option.
"At first I couldn't say a word in English, and my coworkers were amazed that I could later speak entire conversations with them in English," she said. "I wanted to have a good vocabulary, not the conversation skills of a 5 year old. I wanted to communicate with the American people."
Galindo is considering additional course options, including a master's degree in English. The Language Institute also offers tailored courses geared toward specific disciplines and departments at Georgia Tech, which help with accent reduction, oral presentations, interviews, discussions, conversations and academic writing. The tailored courses can be taken as a class, intensive workshop, semi-private tutorial with two or three students or private one-on-one tutorial.
"The teachers push you to work hard, and you have to work every day," Galindo said. "It can be difficult, but I am so happy with my progress."
Learn more about Georgia Tech Language Institute's courses and programs that help international students, professionals, and visitors improve their English proficiency.