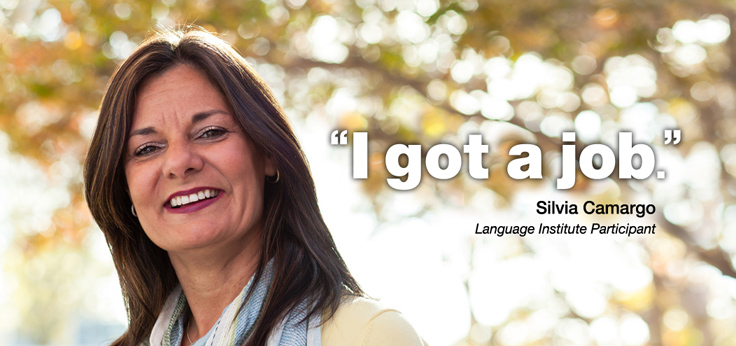 When Silvia Camargo visited Atlanta, she didn't expect to eventually move here and find a job she loves. But when she did move, the Brazil native committed to learning English so she could talk to in-laws, make friends, and land a position with a marketing company.
"I was afraid at first because I was already over 40 years old and thought I would be going into a classroom full of teenagers," she said. "But it ended up being one of the best experiences in my life."
After researching several programs, Camargo decided Georgia Tech Professional Education offered the best place for language instruction. Established in 1958, the Language Institute helps international students, professionals and visitors improve their English proficiency for jobs, academics or social reasons. They offer short courses, summer classes and semester-long programs in English as a Second Language.
"My English was really poor at the time, but I had the best teachers here," she said. "The staff, students and teachers made me feel welcome at all times."
After the first session, Camargo traveled back to Brazil and decided she wanted to enroll in two more language sessions at Georgia Tech. She took the courses and dramatically improved her English proficiency. Then she got married, moved to the U.S. permanently, and continued to take classes.
"After I completed the last session in the sequence, I started volunteering and then working at Georgia Tech," she said. "I didn't just want to be a student."
As a peer advisor and marketing assistant, Camargo helped new students adjust to the Language Institute and campus. As she built more relationships at Georgia Tech, Camargo decided to help others from her native country. She worked with contacts in Brazil and encouraged students to take English classes at the Language Institute. In addition, her oldest stepdaughter is expected to earn two degrees – computer science media and Spanish – from Georgia Tech next year.
Camargo now has a channel incentive support job at N(3), a global strategic sales and marketing service provider in Atlanta.
"The whole time I was working on projects at the Language Institute, I was improving my English," she said. "It was helping me, but I was also giving back."
Camargo appreciated the social aspect of the Language Institute as well. Each week, students gather for conversation sessions, group activities and social outings such as hikes or museum visits.
"It shows students the real American life and American environment," she said. "Many people come for the eight-week intensive program, and these weekend events really create a bond."
In a few short years, Silvia made great strides in her English proficiency, and professional and personal relationships.
Learn more about Georgia Tech Language Institute's courses and programs that help international students, professionals and visitors improve their English proficiency.