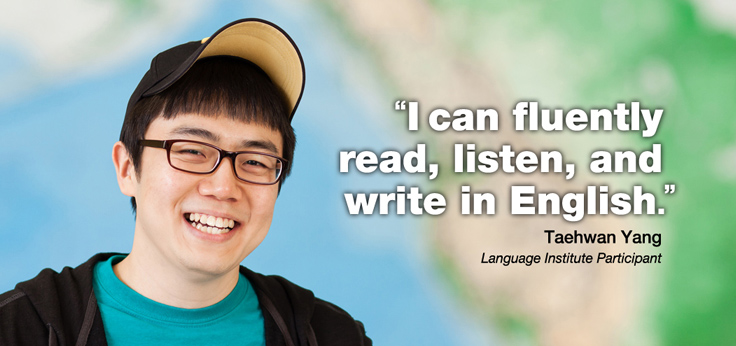 After completing a bachelor's degree in biotechnology and bioscience in South Korea, Taehwan Yang decided to pursue a master's degree in biology in the United States.
His top priority was finding a university that also offered courses in English as a Second Language. When he researched programs online and found Georgia Tech, he contacted a family friend living in Georgia to ask about the program.
"That sealed it for me," Yang said. "I decided to come here to learn English and major in biology."
Established in 1958, the Language Institute – part of Georgia Tech Professional Education – helps international students, professionals and visitors improve their English proficiency for jobs, academics or social reasons. The institute offers short courses, summer classes and semester-long programs in English as a Second Language.
"Although I had studied English for years in Korea, I couldn't use it fluently or practically," he said. "Here I could learn how to become familiar with English, step-by-step."
For the first few months, Yang had a hard time understanding what the professors were saying. But after hard work and hours of practice, everything began to fall into place.
"It was very challenging and fascinating because I thought I should have been able to understand clearly, but at first, I didn't," he said. "After several months, I could feel my speaking, listening and writing improve greatly."
Yang credits the Language Institute's intensive atmosphere for the quick progress. He threw himself into the assignments and studied hard for the exams, often spending a few hours each day devoted to practice.
"I didn't know how to read, listen and write in a complex way, but that changed," he said. "The curriculum forces you to study and focus on the assignments."
Yang took advantage of the supportive social atmosphere as well. He attended weekly conversation events to meet undergraduate students and practice English. The regular sessions evolved into long-term friendships.
"I enjoyed making friends with native English speakers," he said. "I added them on Facebook and had a lot of opportunities to communicate with them online and offline in English."
In his second year as a master's student, Yang plans to apply to Georgia Tech's doctoral program in biology. His ultimate goal is to earn a Ph.D. and work in the biology field — a dream he couldn't have fulfilled without English proficiency.
Learn more about Georgia Tech Language Institute's courses and programs that help international students, professionals and visitors improve their English proficiency.